Minefield of Misery
Sapper Terry Renshaw

The soldiers worked silently, spread out along the centre strip of the minefield.
The ground around them was pockmarked with hundreds of small mounds, revealing the deadly pattern of the mines they were arming.
Fifty metres away on either side a double row of fences stretched into the distance across the scrub and rice paddy fields. To the west, the Long Hai hills loomed over the flat landscape, their caves and jungle-clad slopes harbouring a Viet Cong base.
It was May 30, 1967. The wet season would soon arrive and the rush was on to finish the minefield. Arming the mines was demanding and dangerous work. A momentary lapse of concentration could prove fatal.
When triggered, the American M16 anti-personnel mines - called "jumping jacks" - sent their high explosive charge to waist height before detonating.
Soldiers in the mine-laying teams were rotated through the tasks of arming, carrying and digging to prevent them becoming "stale" or careless.
After working for about an hour, three soldiers in the engineer team stopped for a smoko and gathered in the centre line. They chatted and smoked for 10 minutes and then returned to work.
As the group broke up and walked away one soldier, Sapper Terrence Renshaw, suddenly jerked backwards apparently realising that he had accidentally triggered a mine. He threw his arms outward. A split second later a mine bounded a metre into the air in front of him and exploded. Sapper Renshaw was killed instantly. The full force of the blast struck him in the upper body, the shrapnel tearing off his flak jacket. Another soldier was also wounded by shrapnel - The third man in the group was unscathed, Renshaw's body shielding him, but he suffered shock and blast effects. Renshaw's death went largely unnoticed by the public as just one more in the steadily mounting toll from Vietnam.
Within days his remains were returned to Australia and buried in Wangaratta cemetery.
Almost 21 years later, on April 25, 1988, the town finally commemorated Terry Renshaw's sacrifice. On that day Australian veterans of the Vietnam War took part for the first time in Anzac Day ceremonies in Wangaratta.
Before a large crowd at the Wangaratta cenotaph the local RSL president presented an Australian flag to the dead soldier's aged mother, Mrs Jessie Renshaw. She wept as she received it from her wheelchair. This flag was one of 500 carried by veterans in the welcome home parade six months earlier in Sydney on October 3, 1987. Each flag represented an Australian who died in Vietnam. Of the 500 Australians who died almost 100 were victims of mine incidents.
Terry Renshaw did not want to be a soldier. The 22-year-old national serviceman from Rutherglen was the youngest of six children.
He went to school in Wangaratta and served his apprenticeship there to become a cabinet maker and joiner.
In February 1966 he was called up for National Service and, after training, was posted as a sapper to 1 Field Squadron, Royal Australian Engineers.
Although originally reluctant to go into the army, once serving he wanted to go to Vietnam. His father later recalled: "Terry knew that there was a job to do and he wanted to be part of it."
In Vietnam the young soldier, nicknamed Butch, was well liked and popular within his unit. A non-drinker and non-smoker, he was regarded as an outstanding soldier by his commanding officer. In April 1967 Sapper Renshaw's troop was assigned to work on the construction of a barrier minefield in the south of Phuoc Tuy province.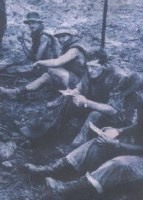 Soldiers take a smoko.
Terry Renshaw is 2nd from left.
AWM P02115.001
On May 19 Renshaw wrote to his parents: "For the past month we have been laying a minefield. I didn't tell you before because I knew you would only worry, but now it is finished and I am back in camp. We have got two days off now, as we were working from 7 in the morning till 6 at night, so we more than earned them."
He also mentioned that he had been close to a terrible accident. "The fellow that was killed had only been up here 2 months", he wrote. "Also he had only been married a short time. The fellow that stood on the mine came up with myself, he is all right, or as well as could be expected, he lost his leg and one hand.
"I hope I never see anything like it again. Also just after we finished one section, two Yanks walked into it and one was killed and one lost his leg, so all in all it was a bad job and thank God that it's finished."
But the job was not finished. Renshaw's troop was soon back to the mine-laying task. Less than two weeks later he was killed.
One soldier later recalled that on the day he died "Butch in his quiet way had told us his opinions on our job in Vietnam: he said that it was a job which needed doing and so he'd do his best at it, "If I get killed over here," he said, "I'll die doing my part but I hope I don't because it would sure hurt my parents. It will sure be good to get home and see them again."
Terry Renshaw was the fifth allied soldier to die during the laying of the minefield. A further eight were also wounded before the task was completed.
Renshaw ended his last letter to his family by remarking on the mounting toll of "friendly" casualties from the mines.
"So all in all it has been a very expensive kind of a minefield," he said. Worse was still to come.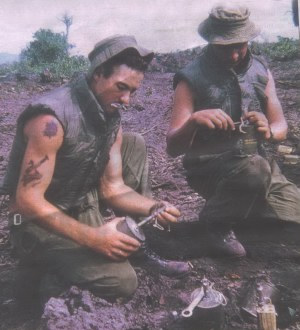 Soldiers prime the deadly 'jumping jack' mines
in the Phuoc Tuy Province in Vietnam. AWM P01783.003
The barrier minefield claimed many more Australian lives over the following years and it came to be widely regarded as the Australian Army's biggest blunder of the Vietnam War.
When completed by June 1967, the minefield contained almost 23,000 M16 antipersonnel mines within a 100m-wide strip of cleared ground between a double row of fences.
More than half the mines were randomly fitted with anti-lift devices, consisting of an attached M26 hand grenade, to prevent enemy interference.
The minefield was constructed to deny the Viet Cong access to their main re-supply and recruitment areas and to isolate their stronghold in the Long Hai hills. For almost six months it was successful in containing the Viet Cong. Communist Vietnamese histories acknowledge the difficulties the minefield posed. But undertakings between the Australian and South Vietnamese forces to secure the minefield soon proved ineffectual.
The minefield was not effectively patrolled nor was it covered by fire, especially by night. Local Viet Cong forces breached the minefield and then removed large numbers of the mines. They displayed great bravery and ingenuity - about 30 National Liberation Front members died in their attempts - and soon learned to lift the mines and redeploy them against Australian forces.
The minefield became a source of supply for the enemy, enabling them to practise their own form of mine warfare.
The continuing existence of the barrier minefield became an enduring dilemma for Australian soldiers. By mid-1969, Australian casualties from enemy-deployed mines - many of them apparently lifted from the barrier minefield - reached crisis levels.
The minefield had long outlived its purpose and had to be destroyed. That created further dangers and difficulties. After two unsuccessful attempts by army engineers, in July 1969 they finally invented an effective means of destroying the minefield.
Not until the end of May 1970 though - three years after it was completed - was the minefield at last declared cleared.
By the time the last Australian soldiers left Vietnam 18 months later, it was widely believed that more than half the Australian casualties from mines had been "caused by our own mines".