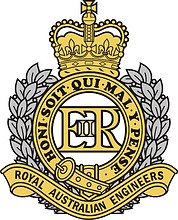 1 FD SQN GP RAE Association 2022 Reunion

Including the Amiens "Bridge of Friendship" WW1 Monument Dedication.

We are pleased to make available
Registration Forms for the 2022 Reunion.
Venue: Western Districts Rugby Football Club, Memorial Park 65 Sylvan Rd. Toowong Qld. 4066.
Reunion is to be held in the Convention Centre at Figs Restaurant in the WDRFC.
Dates: November 10th,11th,12th and 13th of November 2022.
The 1st Field Squadron Group RAE Inc Assoc (The Assoc) is planning to dedicate a "Bridge of Friendship and Memorial to all Australian Army Engineers who served in WW1", in both Amiens, France and Toowong, Brisbane.
The former on ANZAC Day 2024 and the latter on 11 November 2022. The delay in dedicating the Amiens bridge has mainly been due to Covid requirements. Both bridges are similar.
Sappers were at the forefront of every battle involving Australian forces, none more so than the battle of Amiens, "the black day of the German army." On this day Australian Army Engineers (sappers) were recommended for three (3) VCs but were downgraded to DSO and DCM as well as capturing two German headquarters and a railway gun. The barrel of the latter is on display at the AWM.
The bridge in ANZAC park, Toowong, Brisbane has been planned in collaboration with the Brisbane City Council together with a rendition of the 1812 overture and a beating of the retreat.
There will also be re-enactment groups present as well as the French Ambassador, The Governor, Premier, Government Ministers and Military hierarchy and Soldiers.